Slide 1
Want to get the latest CCEF news right to your email inbox?
It's Time to Celebrate: The 2022 Celebration of Education Gala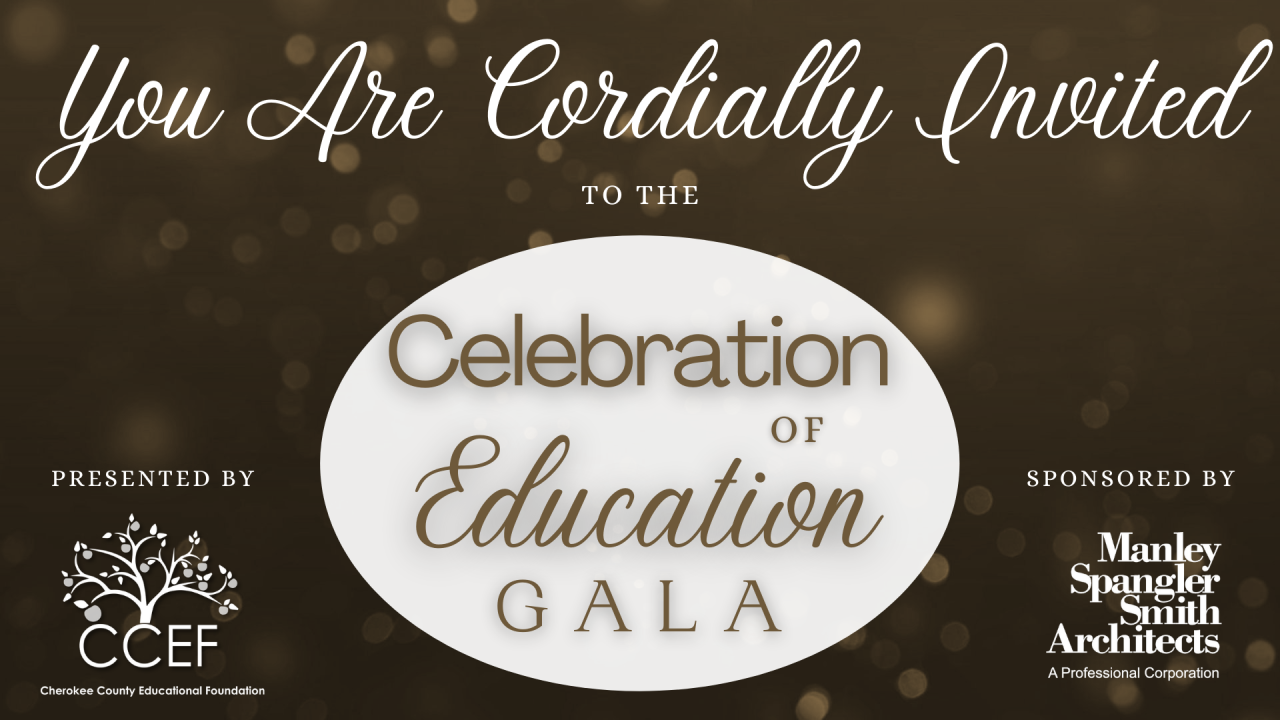 It's that time of year again! That's right. The Celebration of Education Gala is back and better than ever! We are so thrilled to be back together this year for our Gala, and we look forward to seeing all of your bright and smiling faces on March 12th.
Every year, Cherokee County Educational Foundation works closely with wonderful sponsors, donors, and volunteers to throw the Celebration of Education Gala. The Gala is one of our grandest, most fun nights of the year, and it's all in driven by our mission to raise money for the Cherokee County School District.
CCEF's mission is to raise money and grant the allocated funds to CCSD students, teachers, staff, and faculty to help create memorable, and impactful educational opportunities. Of course, we cannot meet our goals without the immense support and generosity of our donors and sponsors. We'd like to give an extra special thank you to Manley Spangler Smith Architects for sponsoring this event. All of the proceeds raised during this event go directly back into funding educational projects in the Cherokee County School District!
CCEF received many wonderful donations of very exciting items for our silent auction, like 2 tickets to see Kansas and a $2,500 Gift Certificate to Anna Christine Bridal, just to name a couple. Both the auction and our 50/50 raffle will be open online for those who want to participate!
Acworth Georgia's very own 1885 Grille is catering the Gala, and if you've ever had their food, you know this is not something you want to miss! Not to mention, there will be a full bourbon cash bar open for our Gala guests.
As for entertainment, there will be plenty of it! The Gala will be graced with the comedic stylings of the hilariously witty Andrew Stanley. Check out his website to learn more about him and his comedy. There will also be musical performances from Cherokee County- based Kurt Lee Wheeler and Atlanta native Ethan Senger!
The dress code is Black-Tie optional. Check out our Do's and Don't list below to answer any questions you may have!
Do's
Don'ts
• Men's formal attire: Suits, tuxedos, dress pants, ties, bowties, etc.

• Women's formal attire: Slacks, formal gowns, formal jumpsuits, some cocktail dresses, etc.

• We will also welcome your funky, vintage tuxedos (Bring on the ruffles and bell bottoms 😉)
• Men's Athletic Wear: Sneakers, shorts, t-shirts, tank tops, etc.

• Women's Athletic Wear: Shorts, sneakers, leggings, tanks, etc.

• Casual wear like sundresses, jeans, flip flops, etc.
The Gala will take place at Northside Cherokee Conference Center. Since this year's event will be held in person, we are offering 4 tiers of ticket options. You can find more about our Graduate, Honor Roll, Salutatorian, and Valedictorian tiers here. Additionally, we are offering virtual tables. Custom graphics of those at the table with the company logo will be played on loop on the big screen!
If you're interested in purchasing a ticket, please reach out to our Executive Director, Lisa-Marie, via email. Once your ticket has been purchased and your seat has been secured, there's only one more rule: Have fun!
Cherokee County Educational Foundation is so excited for this event! March 12th will be a truly special night for our community. Of course, while we are thrilled to have delicious food, amazing entertainment, and lovely auction items, the Gala is a night that will have an impact on the lives of so many students, teachers, and faculty of CCSD. We can't wait to see you there!