Since its establishment in 2012, the Foundation has awarded nearly $1,000,000 in grants to CCSD students, teachers, and schools. All money raised by CCEF is returned to CCSD through donations, grant opportunities, and other support.
Through our Impact Grant Program, Cherokee County School District teachers can be awarded up to $2,500 for various classroom projects or items. We've seen some incredible applications come through and have had the honor to see them through to their completion. Some of the Impact Grants that have been awarded have been used to boost inclusivity and connection, encourage young musicians, and provide supplies for classroom robotics.
These larger-scale projects invest in the students as a whole and may not have been possible without additional funding. When you donate to CCEF, you are a part of students drumming up confidence and making strides in their education.
If you would like to donate, you can mail checks to P.O. Box 4754, Canton, Ga, 30014, or pay by credit card. For any questions or concerns, please contact This email address is being protected from spambots. You need JavaScript enabled to view it..
Teachers: We will update this page with more information regarding Impact Grants as it's available. We can't wait to see your incredible ideas for ways to improve your student's learning experience. You can also follow us on Facebook to stay up to date on everything going on at CCEF.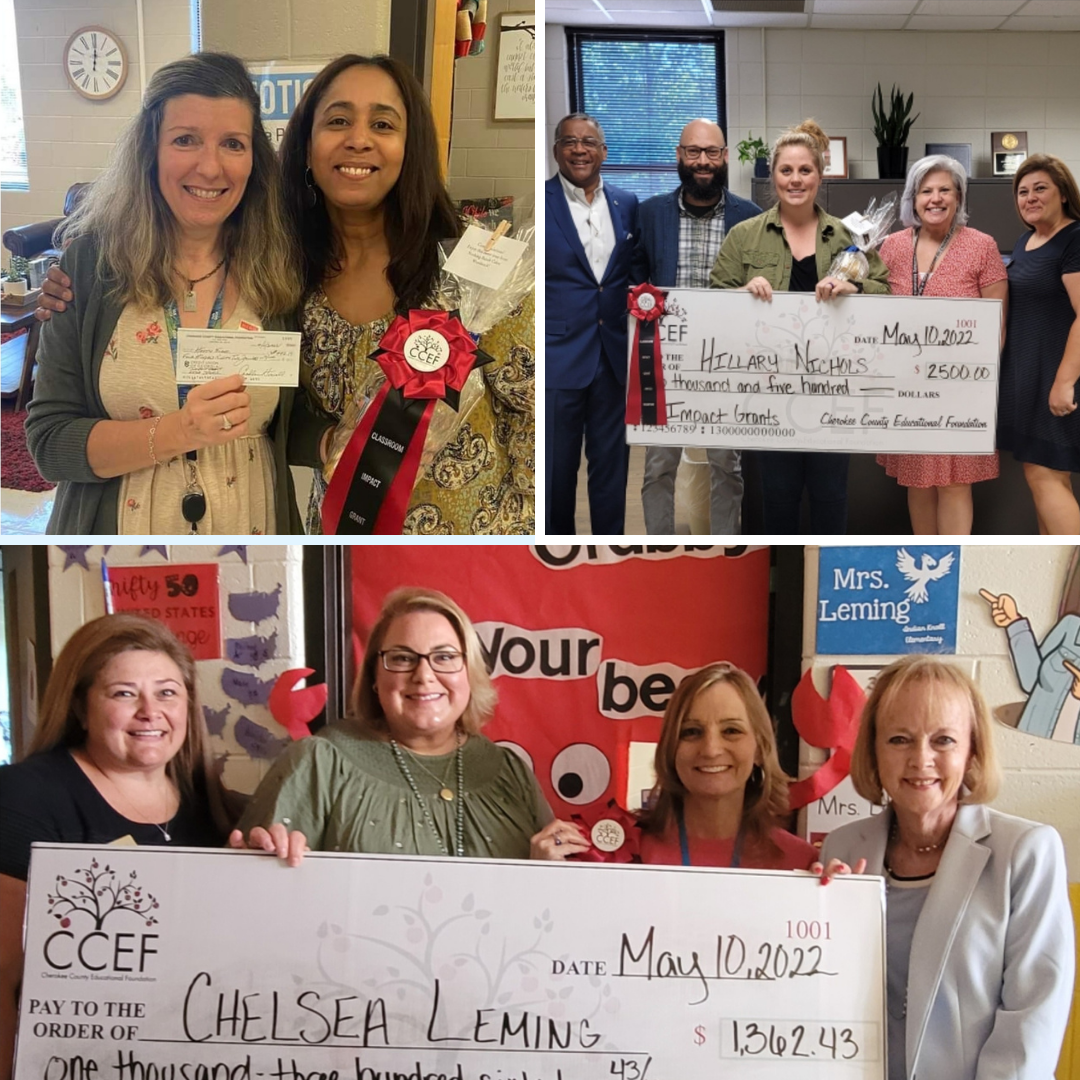 Note: Cherokee County Educational Foundation is currently unable to provide funding for iPads. All iPads within CCSD are managed by the district to protect all students' privacy and security.
Cherokee County Educational Foundation is pleased to announce that thirty-five (35) teachers of the Cherokee County School District have been awarded Classroom Impact Grants for this school year.
Applications for Classroom Impact Grants opened in late November for funding up to $2,500 per classroom. A committee of five judges graded the applications (all teacher and school names are redacted and judges read applications based on strength of the grant written) individually and the scores are compiled and ranked. Judges this year included Brian Albrecht of Credit Union of Georgia, Whitney Spears of Kennesaw State University, Lori Burton, Cherokee County Council President of PTA, Jenny Spain, retired CCSD School Teacher, and Jason Dickerson of the Jason T. Dickerson Family Foundation. The number of Grants awarded each year depends on fundraising efforts at the Annual Celebration of Education Gala. This year, more than $66,000 in Classroom Impact Grants will be awarded to the following teachers:
David Cornn: RM Moore Elementary School
John Woszczynski: River Ridge High School
Ty Casteel: Etowah High School
Jennifer Jones: Boston Elementary School
Samantha Harrington: Carmel Elementary
Ginger Morgan: Avery Elementary
Donna Lownes: RM Moore STEM Academy
Lisa Lougheed: Hasty Elementary Fine Arts Academy
Marsha Loversky: Creekview High School
Cheryl Hunter: Teasley Middle School
Mollie Guy: Holly Springs STEAM Academy
Dana Studer: Oak Grove Elementary
Brenna Lloyd: Boston Elementary
Sandy McPherson: Clayton Elementary
Heather Dalton: Avery Elementary
Stuart Brady: Sequoyah High School
Sarah Munroe: Macedonia Elementary
Logan Hostetter: Creekland Middle School
Lyndsey Hilligoss: Oak Grove STEAM Academy
Kristy Mertins: Woodstock Middle School
Jordan Hofmeister: Tippens ESC
Lori Sewell: Active Academies
Alyssa Martin: Clark Creek STEM Academy
Hannah Roge: Boston Elementary School
Deanna Sareen: Etowah High School
Kim Barger: Tippens ESC
Leslie McKean: Knox STEAM Academy
Kailey Webb: Cherokee High School
Julie Miles: Ball Ground STEAM Academy