Slide 1
Want to get the latest CCEF news right to your email inbox?
The Power of Inclusivity and Connection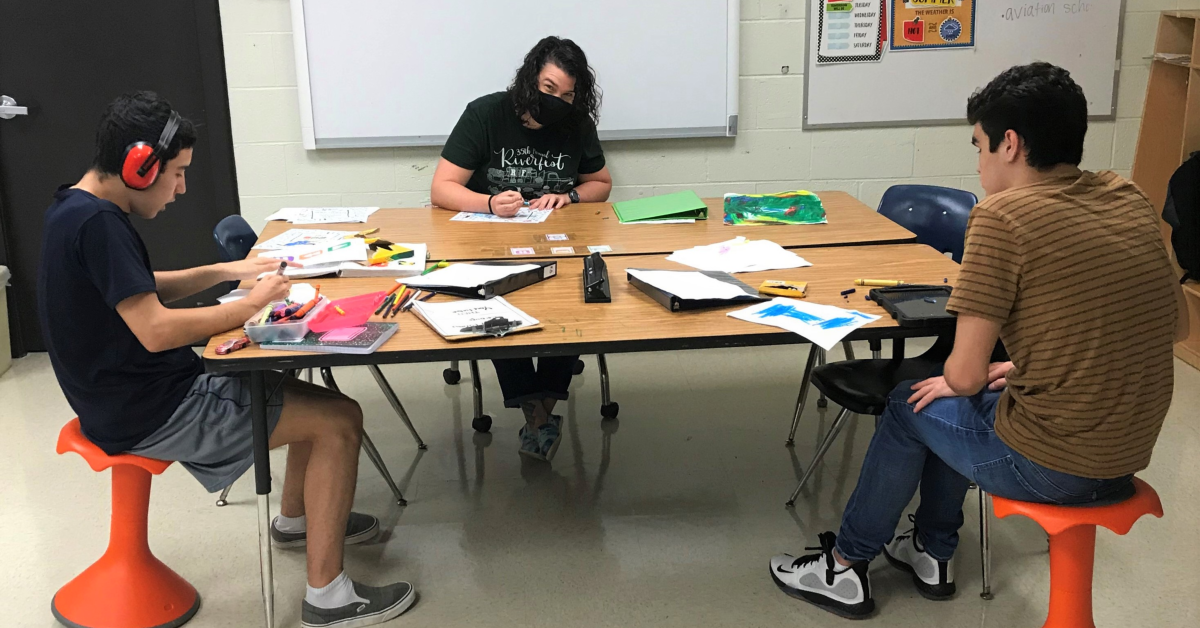 As we've all learned this year, connection is crucial to human existence. The connections we make with friends, family, teachers, and students are bonds that can last a lifetime. They aid in the formation of our character, the growth of our intellect, and mold how we view the world. With connection comes compassion, and it's important that we seek ways to be compassionate and create an inclusive environment for all kinds of students so they can experience the same connection and opportunity for growth. Three Cherokee County School District teachers saw the value of inclusivity and connection and went to work to make sure their students have the tools they need to succeed intellectually, socially, and emotionally.
Fostering Connection, Empathy, Kindness, and Character
Ms. Stacy Campbell of Liberty Elementary School recognized the importance of starting students on the path of good character before they get to their middle and high school years. In order to do this, she applied for a grant to go towards paying for motivational speaker, Joe Beckman, to visit Liberty Elementary and embody what it looks and sounds like to show respect, empathy, and kindness to others. Liberty Elementary holds fast to their values, and practices what they preach every day, but this is an excellent opportunity for students to see what that looks like outside of their peers and teachers. As Cherokee County has emphasized Social Emotional Learning programs in middle and high school-aged students, Ms. Campbell wanted to use this as an opportunity to prep students for what's to come.
Joe Beckman is a youth motivation/human connector extraordinaire and has 15+ years of experience in educational settings fostering environments in which students can reclaim human connection. He has spoken in schools and at conferences all over the world and firmly believes that it's necessary to slow down from the buzz of everyday life, put down the technology, and listen to each other. This listening revitalizes connections and leads to more meaningful relationships which can help students lead a life that will make a mark on the world.

What if playgrounds were inclusive?
For children without disabilities, playing on a playground is something you do with ease. However, until you've seen a child with disabilities attempt to enjoy a non-inclusive playground with their friends, it's hard to understand the great need for inclusivity. In her grant application, Ms. Dobbs tells the story of one of her visually impaired students at Sixes Elementary School who has the best attitude, a great group of friends, and excels academically despite her disability. Though this student certainly doesn't let on to her struggles, Ms. Dobbs noticed that her visual impairment prevents her from experiencing meaningful, collaborative play while on the playground. With the funds from the CCEF grant, Ms. Dobbs plans on starting the process of creating an inclusive playground through the addition of interactive play panels. They will add Braille, musical, and other panels to the existing playgrounds to support the social and emotional growth of the students with special needs.
With this addition, this student, and many students to come will get to experience the joy of connecting with friends on the playground and enjoying independent, yet collaborative play in a capacity that could be difficult to achieve otherwise.

Improving Sensory-Motor Movement with Hokki Stools
Mr. Wesley Satterfield is the Assistant Principal of LR Tippens Education Center and requested grant money to provide his students with Hokki stools to improve their sensory-motor movement. These stools will replace the traditional classroom chair and allows for sensory-motor movement while seated, which helps with sensory system regulation. With the addition of Hokki stools, we hope to see that students are more available for learning and less likely to engage in problem behaviors. These stools are flexible and easy to transport so that students may rearrange classrooms and seats to facilitate increased collaboration. If these stools help students regulate their sensory systems, they will be more likely to have increased communication skills as they can focus at a higher level.
The Hokki stools will also be used to conduct Doctoral research regarding the effectiveness of these stools. Behavioral data will be collected and compared with a baseline (without the use of Hokki stools) to determine the effectiveness of the stools in curbing behaviors school wide. This project is not only of benefit to LR Tippens but could also serve as valuable information for schools across the world.

We hope you're as proud of these teachers as we are! Ms. Dobbs, Ms. Campbell, and Mr. Satterfield have gone above and beyond to invest in students academically, socially, and emotionally. The Cherokee County Educational Foundation could not be happier to play a part in these projects and we can't wait to see the impact these teachers have for years to come.