Slide 1
Want to get the latest CCEF news right to your email inbox?
Impact Grant Winners: Time to Thrive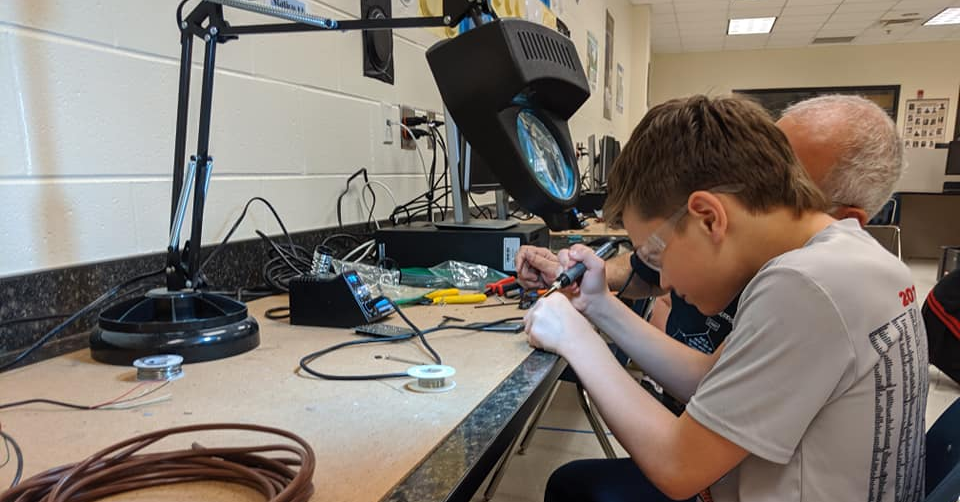 Thrive. This word manifests itself in a lot of different ways in a lot of different people. For some, it may be a series of small successes, while for others it's the "ah-ha" moment that makes it all worth it. Either way, this is our goal for all students – to give each child the opportunity to thrive in their own way. These Cherokee County Educational Foundation Impact Grant winners submitted proposals with ideas that have and will continue to make an impact on students of all ages and abilities.
Go Baby Go began at the University of Delaware with Dr. Cole Galloway. The primary goal was to create modified, ride-on cars for young children with disabilities. Mobility can often be especially difficult for little ones with disabilities because they're too young to operate expensive power wheelchairs. Without the proper tools, these children have to constantly be carried or pushed in a stroller which may make them struggle with cognitive, social, motor, language, and other skills. When given some freedom, these children are able to develop important skills that will benefit them for the rest of their lives.
At ET Booth Middle School, Ms. Daniele Deneka has been participating in Go Baby Go with her 8th grade STEM students as they work on and provide modified ride-on toys for disabled CCSD students. This program creates an awesome opportunity for mentorship as Etowah High School students guide the middle school students and the middle school students provide for younger CCSD students. This builds leadership skills, STEM skills, and makes their studies have true meaning. We're so thankful to have been able to provide the funding for the parts needed to continue to build Go Baby Go vehicles.

Photos Taken in February, 2020
For some, thriving looks like new-found confidence and enjoying something he or she never expected to enjoy. Ms. Emma Neumeister of Sixes Elementary School submitted for an Impact Grant to fund drums for a drumming circle. They are not only used for music lessons, but are also great for engaging students, improving their emotional wellbeing, and even improving test scores. Though all of these things make it worth it, this is a true story of a student thriving.
Ms. Neumeister shared, "A 5th grade student with autism made a significant impact on my love of teaching students drumming and using drum circles for team-building activities. He entered the room very curious and quiet at first. Things were not in their normal places and the drums were new equipment that he had never seen arranged in the middle of the room. He sat down tentatively, and we began the drum circle. After the first five minutes of warm-ups, I was so excited to see that he was raising his hand to participate and lead the student-centered activity. I let him replace me in the middle of the drum circle. He began to move his hands and body to conduct the group, exactly as I had done. As soon as he realized the students were following his every move, he let out this amazing laugh and the smile on his face brought tears to my eyes. He was in charge, he became the conductor, he found power in the music and confidence in the sounds of the drums."

You never know what could make the difference for a child!

We hope to hear many more stories of students building modified ride-on cars, and CCSD students getting to use them as well as students learning more about themselves through music. This is what the Impact Grant is all about – helping students and teachers find joy in education and bringing even more meaning to the middle of it.