Slide 1
Want to get the latest CCEF news right to your email inbox?
2022 Classroom Impact Grant Recipients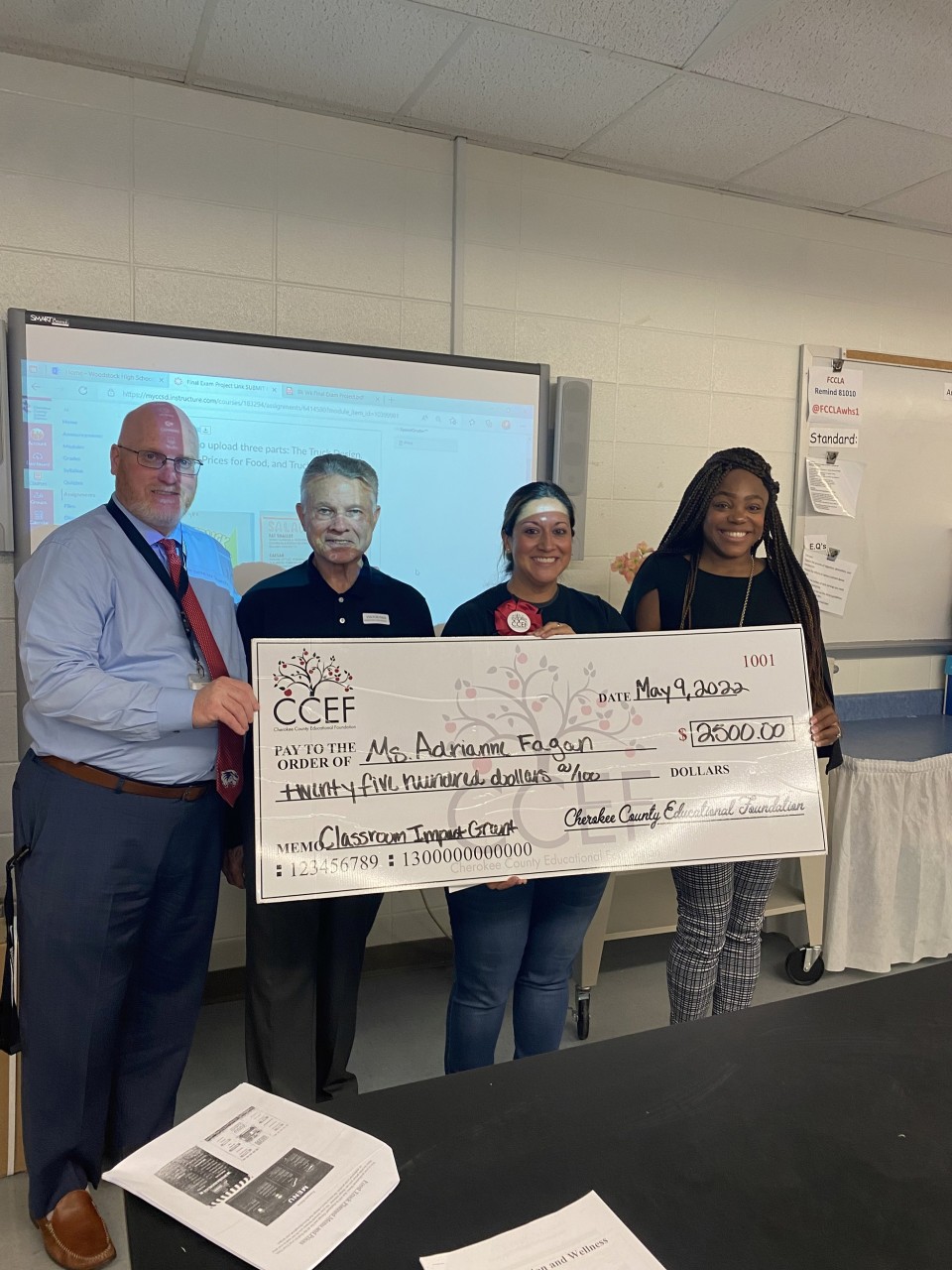 Each year Impact Grants help teachers in Cherokee County by awarding up to $2,500 per classroom for those who are selected. In the past, Impact Grant recipients have been able to fund innovative projects in their classrooms and provide needed supplies for their students. We are very excited to highlight some of the amazing things being done by this year's grant recipients, Jennifer Campbell and Adrienne Fagan.
The Cherokee County Educational Foundation surprised 21 teachers with Classroom Impact Grants, which ended up totaling $40,000 for this school year. Since its inception in 2012, the CCEF has helped award over $1 million to ensure excellence in Cherokee County classrooms. CCEF Executive Director, Lisa Marie Haygood, calls this year's Impact Grants a tremendous success, saying, "we continue to celebrate the innovation we see in our teachers, students, and community."
Drone Pilots – Dean Rusk Middle School
Students at Dean Rusk Middle School are working hard to bring their growing computer science knowledge to the real world, and Dean Rusk Computer Science teacher, Jennifer Campbell, is making that a reality. Through researching career opportunities with her class, Ms. Campbell and her students came across the incredible world of drones. Their program, dubbed 'Game of Drones,' will show students how to take their coding skills to the sky!
This niche career choice has connections spanning across different forms of fields, from pilots and software developers, to photographers and our local first responders. This program will impact all grades at Dean Rusk Middle School and be used by about 800 students each year.
Be on the lookout for Ms. Campbell's class on social media for updates from the drone program. Students will also look to collaborate with local drone pilots with the Cherokee County Police Department and Fire Department!
Growing an Outdoor Classroom – Woodstock High School
At Woodstock High School, Family and Consumer Science teacher Adrienne Fagan is helping bring outdoor instruction to life. Her goal is to create a learning space that encourages social and emotional development across all programs and departments at WHS. Growing an outdoor classroom will encourage differentiated instruction that will benefit academic growth and emotional wellbeing.
With the Impact Grant, this outdoor classroom project will accomplish many objectives that will help students develop a sense of self, think creatively, and help enhance their mental health. Along with student benefits, this project will also incorporate foundations of community, nature, and agriculture, that Ms. Fagan says is key in human stability.
All students and teachers at Woodstock High School will be encouraged to utilize this outdoor space to have class and continue to build healthy minds and wellbeing.
How to Apply
Applications for Classroom Impact Grants open in November and are available for funding up to $2,500 per classroom. A committee of at least five judges grade the applications individually and the scores are compiled and ranked to decide which teachers are awarded grants. The number of grants awarded each year depends on fundraising efforts at the annual Celebration of Education Gala, check out
last year's gala here!
For more information on how you can donate to the next Impact Grant, check out the
CCEF's Grants page
for further details.