Slide 1
Want to get the latest CCEF news right to your email inbox?
Introducing New and Returning CCEF Board Members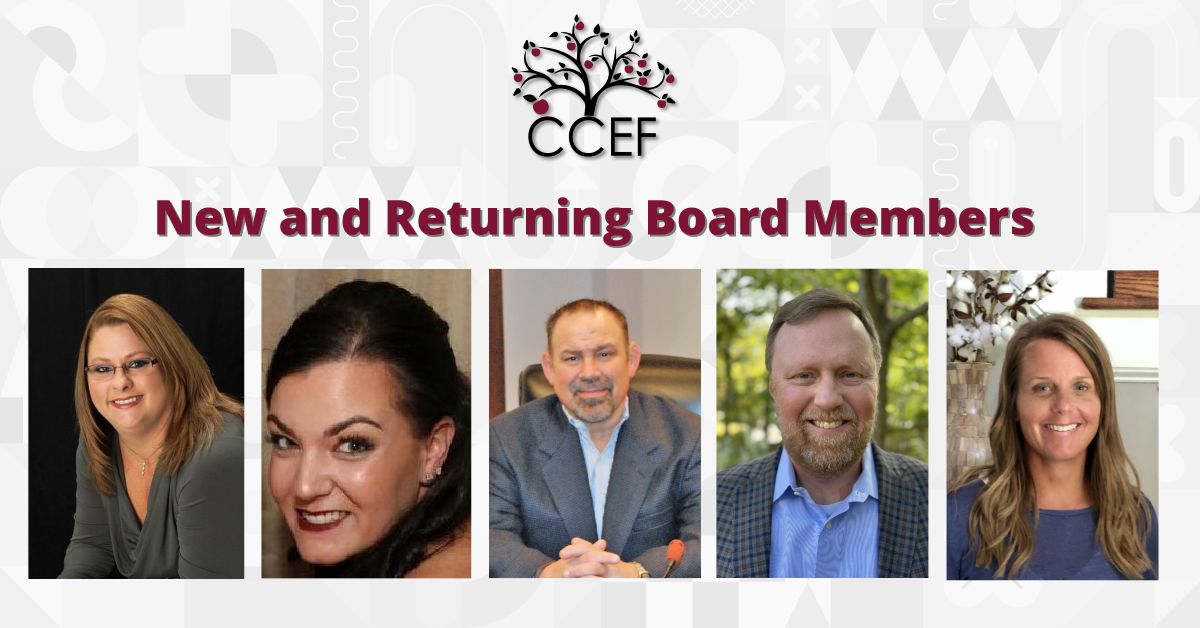 Not only have we started a new school year, but we also have some new Cherokee County Educational Foundation board members and even one returning board member! We couldn't do what we do without our awesome team, and we couldn't be more excited for all of the ways that these outstanding individuals will benefit the Foundation.
Jenny Spain
Ms. Spain is a retired Cherokee County teacher and currently works as an administrative assistant for C&K Paving. During her 25 years of teaching, she won Teacher of the Year, had the yearbook dedicated to her, served on a plethora of committees, earned several certifications, and thoroughly enjoyed teaching and interacting with her co-workers. Spain grew up in Florida and went on to attend the University of Georgia on an athletic scholarship for diving. There, she earned her degree in Early Childhood Education and then went on to earn her Master's in Education from Piedmont College.
Ms. Spain believes that Cherokee County is a wonderful place to raise a family between the great schools, great community, and the abundance of friendly and caring people. Outside of her daily duties as an administrative assistant and CCEF board member, Spain loves running, Orange Theory, tennis, and spending time with her family and friends.
From the very beginning, Mr. Meade was a numbers guy and that has carried through the entirety of his career. He earned a degree in accounting from Ohio State University, and then went on to complete a master's degree in financial planning from Georgia State University. After spending time at a notable accounting firm and within the corporate accounting world, he is now a Partner and Wealth Manager at Redwood Wealth Management. Not only is Mr. Meade a CPA and CFP, but he has also spent time on various boards including the Board of the Financial Planning Association of Georgia, Ernst & Young Atlanta Alumni Advisory Council, and the Ohio State Fisher College of Business Alumni Board.
Mr. Meade is a member of the Canton community along with his wife and sons. Though his love of football runs deep, he also has a passion for traveling with his wife as they attempt to go to a new state every year for their anniversary.
Robert Rechsteiner of southwest Cherokee is the Vice Chair of the Cherokee County Board of Education and is known by his nickname, Rick Steiner, from his career in professional wrestling. He has served on the school board for 16 years and is both a realtor and a longtime youth sports volunteer and supporter. Mr. Rechsteiner was elected by District 4, which includes Etowah High School and southwest Cherokee. He has three sons who are CCSD graduates, which has strengthened his love and commitment to the Cherokee County School District.
With a bachelor's degree in Education from the University of Michigan, Mr. Steiner states that his primary mission on the school board is to make decisions that are in the best interest of his most important constituents, the K-12 students of the Cherokee County School District.
Ms. Burton resides in Woodstock, Georgia and has served as both Treasurer and President of the Boston Elementary PTA for the last four years. In 2019, she was named Volunteer of the Year by Boston Elementary School, and she has also served as the Diversity, Equity and Inclusion Chair for the Cherokee County Council PTA. Lori currently serves as Cherokee County Council PTA Co-President and Parliamentarian for Boston Elementary PTA in addition to serving as Vice-Chair on the School Council.
When not serving the children and families of Cherokee County, Lori loves spending time with her family and cheering for the Buffalo Bills! Her oldest, Mia, attends E.T. Booth Middle School, in the Etowah Zone. Her youngest, Zoe, is four years old and loves attending dance class.
Ms. Stastny is the Founder and Managing Partner of Stellaris Group, an HR firm based out of Alpharetta. With over 30 years of experience in the industry, she has created a company that serves businesses both large and small in their HR needs. She earned her Bachelor of Science degree in Business Administration and Organizational Development from Texas Women's University and also holds a variety of HR-specific certifications. Outside of participating on the CCEF board, Ms. Stastny also serves as President of Georgia PTA as well as a Cherokee Family Violence Center board member.
Dawn has been serving on the CCEF board for the past 4 years and has renewed her term with us. When not serving on various boards and running her own company, Ms. Stastny enjoys traveling with her family.
Moving Forward
Now that our board is complete for the 2021-2022 school year, it's time to step into action. We hope you're ready for an awesome year!