Slide 1
Want to get the latest CCEF news right to your email inbox?
2020-2021 Year in Review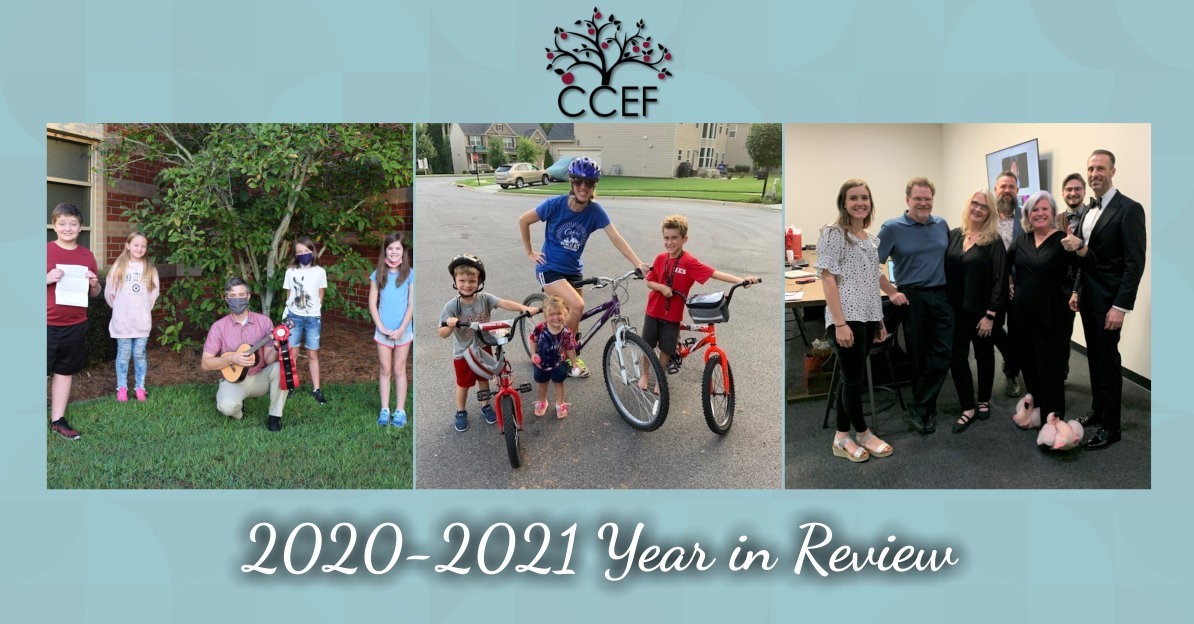 Happy July! The school year ended, graduation commenced, and now everyone is nearing the end of summer break. As we look back on the 2020-2021 school year, we see many challenges, yet many triumphs as well. Throughout the year, our team adapted as we had to modify how we ran our usual fundraisers. Nonetheless, we were proud to see it come together for the good of the Cherokee County School District. Let's take a look at the list of 2020-2021 events that continue to make our mission possible.
In past years, we've promoted our Around the World with CCEF contest. This was built to encourage people to buy t-shirts, then take pictures wearing them across the world. We wanted to see just how far our t-shirts could go. However, last year brought some definite challenges and we had to adjust the contest a little bit. That's why we started the At Home with CCEF contest. In this new version, we got to see what our CCSD teachers were doing at home while wearing their CCEF t-shirt. Some sent photos with their chickens, riding bikes, or playing with their children or grandchildren. We ultimately saw thousands of people flooding to our website to place their vote for the coolest picture. In the end, we got to name a winner who won a gift card to use for school supplies.
Chick-fil-A Moo've It 5K
This event is huge for both the Cherokee County Educational Foundation and the Cherokee County Special Olympics. Circumstances required it to transform from one of the biggest races in North Georgia to a virtual event that required runners to join the race while running around their neighborhoods, schools, or wherever they had to go to join the fun. Luckily, this event is back and better than ever this year. Learn more about the 2021 Chick-fil-A Moo've It 5K here!
Thanks to the outdoor nature of golf, this event was able to proceed similarly to past years. We had so many awesome supporters come out and help make a difference in the Cherokee County School District. We are so thankful for all of our sponsors, players, and everyone who made this tournament a success.
Celebration of Education Gala
Last, but certainly not least, we had the 2021 Celebration of Education Gala. This is, by far, our biggest fundraiser every year. Previously, we had hundreds of people come out to participate in our Gala and show their support for CCEF and the Cherokee County School District. However, this year we had to get creative, so we put on a live-streamed Gala! This virtual event featured prominent members of our community, CCSD students, an awesome band, a silent auction, and more. The Gala was a great success, and we couldn't be more thankful for all those who participated in the virtual festivities.
We're so excited for these events to be in-person again, but we're incredibly thankful for the growth we experienced as we had to think outside of the box and keep everything moving, even when we didn't know what the next thing would look like. Get ready for the 2021-2022 school year…it's going to be great!