Slide 1
Want to get the latest CCEF news right to your email inbox?
Celebration of Education Gala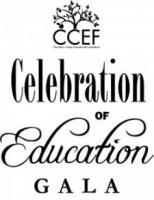 The Cherokee County Educational Foundation (CCEF) will present its 5th Annual "Celebration of Education" Gala fundraiser on Saturday, March 9, 2019 at the Northside Hospital-Cherokee Conference Center.
We are very excited about our event to benefit the schools and students of the Cherokee County School District. This black-tie night includes dinner, the "CCSD's Got Talent" Student Talent Show, Silent Auction and special recognitions of outstanding Alumni and Educators. We are asking for your support.
The Cherokee County Educational Foundation is a charitable, (501c3) non-profit organization dedicated to supporting the students and staff of the Cherokee County School District by promoting teaching and learning and celebrating achievements. The Foundation seeks funding and resources to enrich Cherokee County School District schools in areas not fully funded in the regular school program. This is including, but is not limited to, grants for schools, grants for teachers and other staff; grants for students for academic and after-school/extra-curricular programs; and support for specific School District initiatives such as the Cherokee Academies and Bring Your Learning Device. The Foundation is a Partner with the Cherokee County School District and supported by the Cherokee County School Board.
Would you be willing to donate an item that we would use in our Silent Auction? Items could be gift certificates, gift basket, event tickets or anything you would be willing to donate. All donors will be recognized at the event.
The Celebration of Education Gala is expected to draw over 400 supporters and community leaders. A donation form for the silent auction items is attached. Simply complete the form, then call or email to notify us of the donation and we will arrange to pick up the item.
Thank you for your consideration and participation. Your generosity will help support the many programs supporting the Cherokee County School District students and teachers that would otherwise go unfunded.
If you have any questions, or would like additional information on becoming a sponsor for our upcoming Celebration of Education Gala, please contact Lisa-Marie Haygood, Executive Director of the Cherokee County Educational Foundation at 770-704-4213 or email This email address is being protected from spambots. You need JavaScript enabled to view it..
Click on the links below for more information:
CCEF 2019 Gala Silent Auction RequestCCEF 2019 Gala Sponsor Benefits