Slide 1
Want to get the latest CCEF news right to your email inbox?
Judge Jackson Harris: Making Cherokee County Proud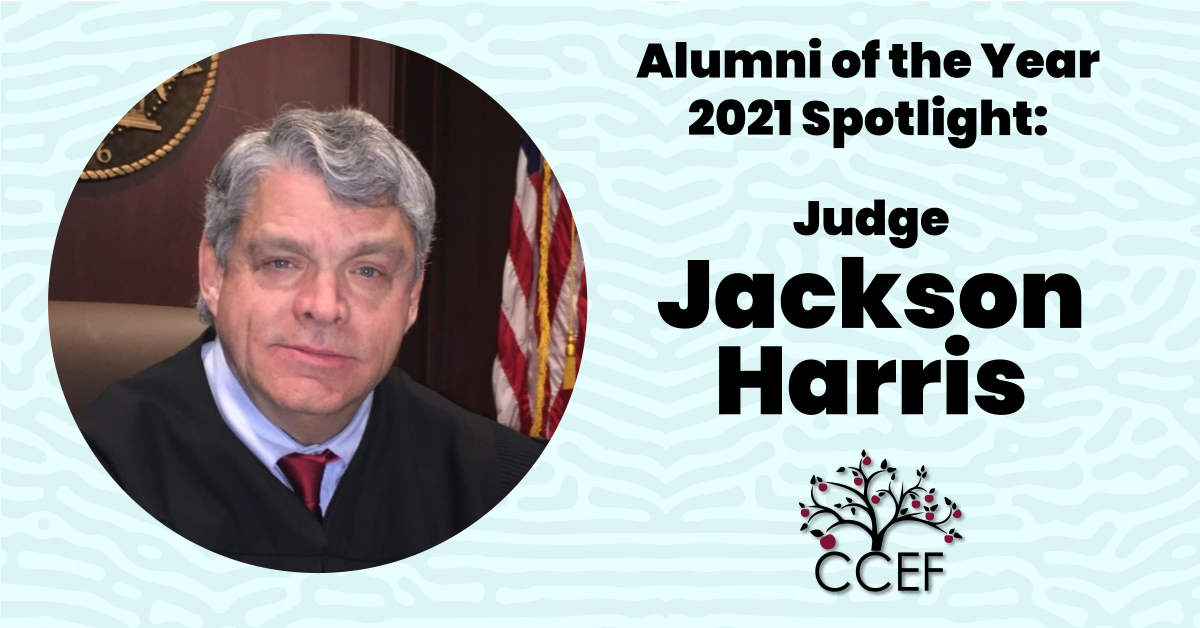 We recently released an article outlining how Alumni of the Year winner, Ms. Carolyn, Turner has been a light to our community. Now, we would like to highlight our other Alumni of the Year winner, the Honorable Judge Jackson Harris. Judge Harris grew up in Ball Ground Georgia, attended Ball Ground Elementary School, and graduated from Cherokee High School in 1972. Harris gained his B.A. at Emory University and his law degree from Mercer University. After many years of education and dedication, he began his career in law!
The Career of Jackson Harris
After being admitted to the bar, he served as a law clerk for Court of Appeals Judge Marion T. Pope. Judge Harris is the 23rd person to hold the position of Superior Court Judge for the Blue Ridge Judicial Circuit since it was created in 1851. He took his seat on the Superior Court bench May 31, 2001 and assumed the Chief Judgeship on January 1, 2013. He served as an active judge for 22 years until he took Senior Judge status at the end of 2018. He currently serves as Senior Judge and is a mediator.
He served with Judge Marion T. Pope, Jr. and then Chief Judge Richard B. Neville before spending 14 years in private law practice. On January 1, 1997, Harris was appointed to be the Juvenile Court Judge in Cherokee County. Shortly thereafter, the Blue Ridge Judicial Circuit became a single county circuit and Harris provided judicial assistance to the State and Superior Courts by presiding over civil, felony, and misdemeanor jury and non-jury matters from 1997 until May of 2001. During his legal experience dating back to 1981, he has participated in jury trials of every kind including capital felony cases, divorce, eminent domain, negligence, title to land, business disputes, contract, and thousands of non-jury hearings and trials. While in private practice, he represented clients before all levels of Georgia Courts, the United States District Court and represented both debtors and creditors in the United States Bankruptcy Court.

Judge Harris has been a teacher for the University of Georgia Institute for Continuing Legal Education, instructing lawyers, judges, and other court personnel on a broad range of law and practice issues. In the early 2000s, he served on a statewide committee to develop a practical implementation of the complex revisions to the child support law. While judge in the Juvenile Court, Harris implemented systems to improve the management of and results in abused and neglected children cases. During his tenure in Juvenile Court, Judge Harris implemented programs that saw improvements in the average length of time children were staying in foster care in Cherokee County. Citizen Review Panels continue to review the circumstances of children in foster care and make recommendations critical to the decisions made in Juvenile Court.

Harris launched advanced technology in the Juvenile Court that improved information delivery and saved many hours of data management time for the Juvenile Court Clerk. Likewise, as a Superior Court Judge, he marshalled state resources to install a client server network for the judicial offices and the Superior Court courtrooms. Harris was recognized at different times by four different Chief Justices of the Georgia Supreme Court for his role in advancing court technology, having served at various times as chair of technology committees on the state councils of both Georgia Juvenile Court Judges as well as the Georgia Superior Court Judges. His memberships include the State Bar of Georgia, Blue Ridge Circuit Bar Association, the North Fulton Bar Association, the Council of Superior Court Judges, and the Lawyers Club of Atlanta.

Harris doesn't just participate in law in Cherokee County, but he also is a Cherokee Chamber of Commerce Leadership Cherokee Alumnus and served many years on the Steering Committee Board that taught and directed the Leadership Cherokee program. He was a member of the organizing Board of Directors of the Cherokee County Boys & Girls Club through 2001 and was also a member of the Blue-Ribbon Committee on Cherokee County Schools in the mid-90s.

He has served in several church leadership roles as well. Harris was an organizing member and is an Emeritus Member, Board of Directors of the Cherokee County Sports Hall of Fame, a life member of the Cherokee County Historical Society and has received community service awards from the Woodstock Police Department, the Kiwanians, Rotarians, and the Optimists and has been recognized as Executive of the Year from the Appalachian chapter of the International Association of Administrative Professionals.

It is obvious that Judge Harris has had quite the career and we're so proud that he calls Cherokee County his home.